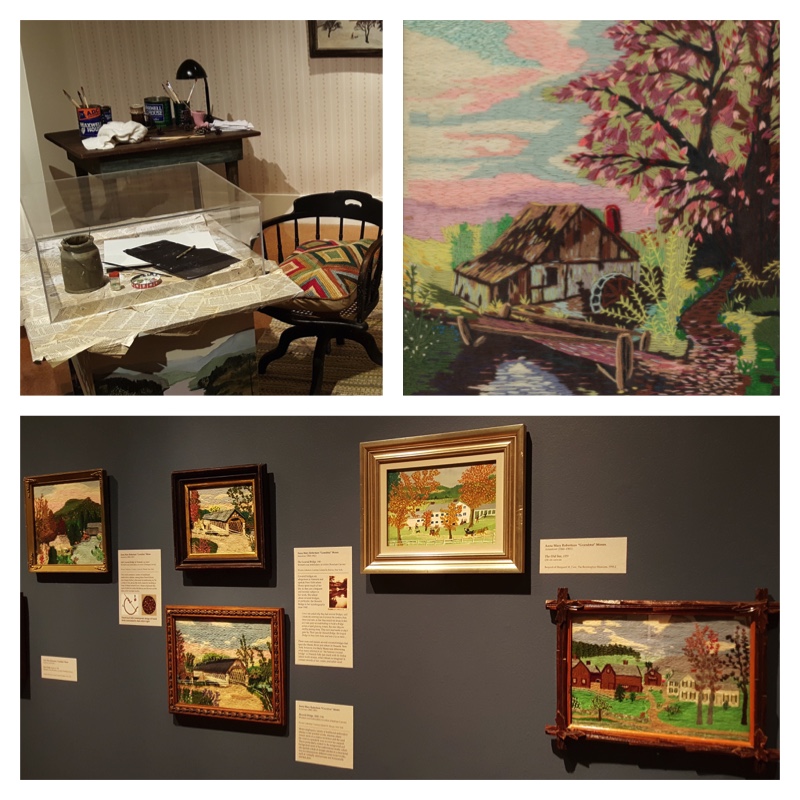 American Sampler: Grandma Moses and the Handicraft Tradition, on view at the Dayton Art Institute through February 21, reveals the origins of America's most famous folk style.
Anna Mary Robertson Moses (1860-1961), popularly known as Grandma Moses, is so famous that many people take her for granted. Since the artist's rise to international fame in the 1940s and '50s, the folksy style she pioneered has become ubiquitous. Imitations pop up everywhere, from ceramics and textiles to children's book illustration. Moses is one of the most influential and yet least well understood artists of the twentieth century.
Organized and deftly installed by curator Aimee DeGalan, American Sampler: Grandma Moses and the Handicraft Tradition deconstructs Grandma Moses's deceptively simple style. The exhibition is the first to explore the aesthetic relationships between the artist's paintings and her handiwork, revealing a common approach to pattern, form and space. On view at the Dayton Art Institute through February 21, 2016, American Sampler features approximately 50 works by Grandma Moses, including her paintings, embroideries, a quilt and other handmade items, along with examples of embroidery from the 17th through 19th centuries and a recreation of her studio. The show presents a new frame through which to view one of America's most beloved and iconic artists.
Born at a time when little girls had to sew their own dresses, Anna Mary Robertson Moses mastered needlework at an early age. Her formal education was limited, however, and as a farmer's wife she had no time for art. It was only after her five children were grown that she began to indulge a longstanding interest in picture-making. Moses began by embroidering pictures and switched to paint when arthritis made it too difficult for her to hold a need. Popular prints and magazine illustrations served as formal inspiration, while embroidery taught her to break subjects down into their component colors. A farmer's keen understanding of nature and weather gave the artist's landscapes visceral authenticity. At first Grandma Moses copied preexisting compositions, but by the early 1940s, she had perfected her signature style: a unique melding of diverse influences.
The Galerie St. Etienne facilitated the loan of thirty works to American Sampler: Grandma Moses and the Handicraft Tradition. For further information and reviews, see:
"Works by Folk Artist Grandma Moses Featured in Dayton"
Ohio Magazine
"'Grandma Moses' comes to DAI"
Dayton Daily News
"Grandma Knows Best"
Dayton City Paper
"DAI Exhibit Reveals Early Influences of Grandma Moses"
Dayton Local
"The Dayton Art Institute's Grandma Moses special exhibit is a gem"
Examiner.com
(Installation images courtesy the Dayton Art Institute.)