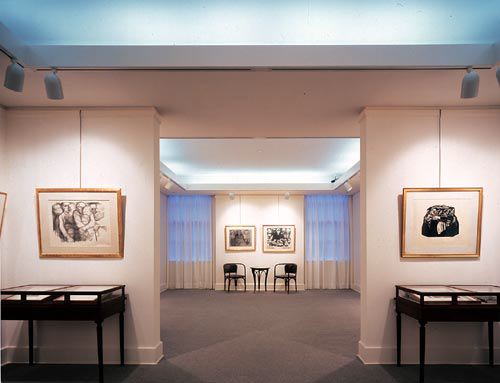 Founded in 1939 by Otto Kallir (1894-1978), the Galerie St. Etienne is the oldest gallery in the United States specializing in Austrian and German Expressionism. We mounted the first American one-person shows of such artists as Erich Heckel (1955), Gustav Klimt (1959), Oskar Kokoschka (1940), Alfred Kubin (1941), Paula Modersohn-Becker (1958) and Egon Schiele (1941). St. Etienne was also instrumental in arranging the first American museum acquisitions of works by these artists, through sales and donations. Firmly committed to scholarship, the gallery's directors have authored catalogues raisonnés on Richard Gerstl, Grandma Moses and Egon Schiele. Following Otto Kallir's death in 1978, his granddaughter, Jane Kallir, and his longtime business partner, Hildegard Bachert (1921-2019), became the gallery's co-directors. Bachert was a world-renowned expert on Käthe Kollwitz, while Jane Kallir has written over 20 books and is the leading authority on Schiele.
The Galerie St. Etienne developed a commitment to the work of self-taught American and European artists after "discovering" Grandma Moses, who had her first one-person show here in 1940. The gallery has represented Moses ever since. We have also worked with the estates of Ilija Bosilj (Basicevic), Henry Darger, Morris Hirshfield and John Kane, as well as the artists of Gugging, Austria. While our focus is on self-taught artists of the early 20th century, Jane Kallir has written extensively about contemporary "Outsider" art and Art Brut.
In 2017, Hildegard Bachert and Jane Kallir established the Kallir Research Institute (KRI) to continue the scholarly tradition established by Otto Kallir. In 2021, the Galerie St. Etienne closed it exhibition space and became an art advisory. The gallery's library, archives and educational activities were taken over by the KRI.