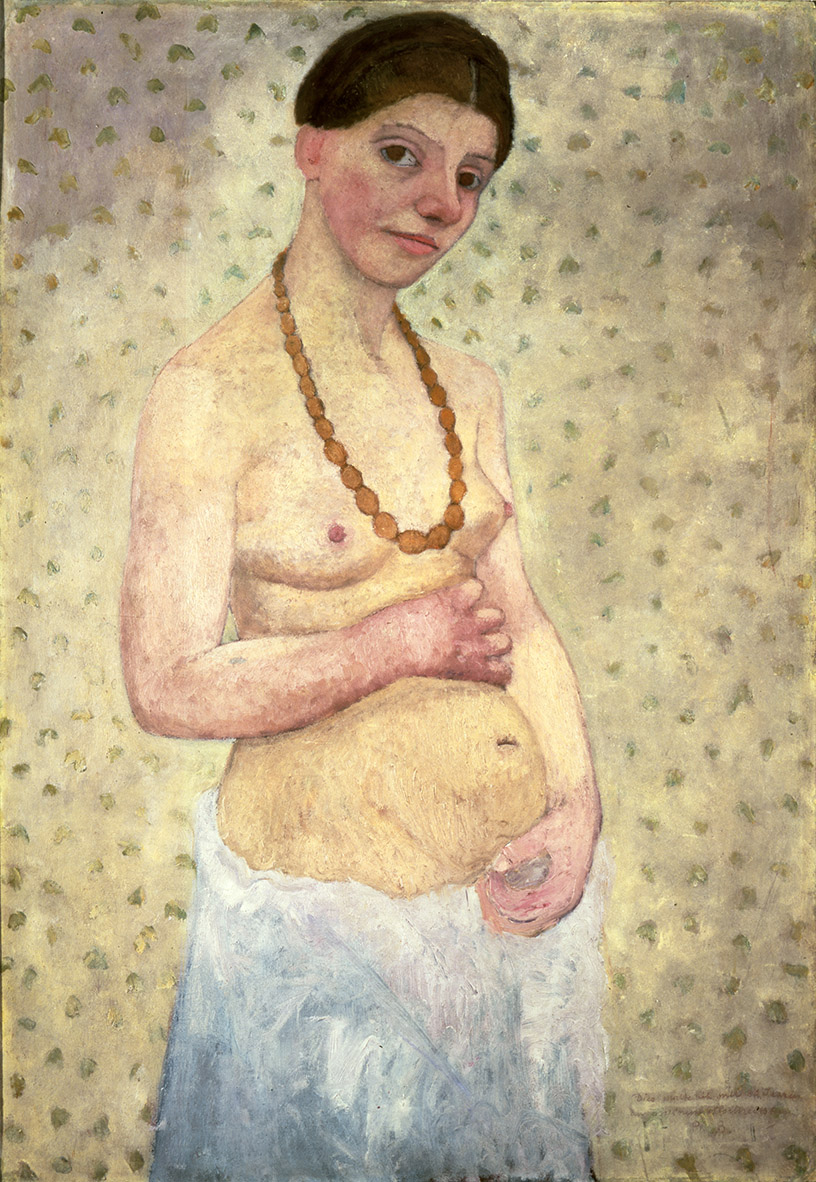 "Modersohn-Becker painted from an implicitly feminist point of view, granting women a memorable emotional complexity through the physicality of her paint and the solidity of her forms" – Roberta Smith, The New York Times
Through a combination of persistence, luck, and grudging parental acquiescence, Paula Becker (1876-1907) was able to pursue artistic training from a relatively young age. She studied first in in her home city of Bremen, then in Berlin and, for several weeks in the summer of 1897, at the Barbizon-like, back-to-nature artists' colony at Worpswede. In 1898 she relocated more permanently to Worspwede, though she ultimately rejected her colleagues' sentimental approach.
Drawn to the excitement of the city, Becker set out for Paris on December 31, 1899, a symbolic rejection of the old century. Even as she worked to absorb the myriad unfamiliar influences in international art capital, she began a love affair with Otto Modersohn, one of the Worpswede colony's three founding artists. The pair wed in May 1901, and although both considered their union artistic as well as physical, their ambitions were too mismatched for their creative idyl to last. The relationship was punctuated by Modersohn-Becker's solitary returns to Paris (in 1903, 1905, and 1906), each separation only intensifying the couple's painterly and personal estrangement.
Modersohn-Becker and her husband reached a tentative reconciliation in 1906, when she allowed Modersohn to join her in Paris. In the spring of 1907, she returned with him to Worpswede, pregnant. Eighteen days after the birth of their daughter, Mathilde, Modersohn-Becker died of a cardiac embolism at age thirty-one. In addition to her husband and child, the young artist left behind an impressive body of work comprising some seven hundred canvases. While she was virtually unknown at the time of her death, within fifteen years her considerable accomplishments had made her a near-mythic figure in Germany.
A synthesis of naturalism and French formal elements, Paula Modersohn-Becker's style is imbued with the Worpswede notion that essentially realistic subjects can embody profound spiritual values. Modersohn-Becker was one of the first artists in any country to promote an all-over textural treatment of her canvases, and is thought to be the first artist to have depicted the nude from a female perspective. Her numerous self-portraits include full-length nudes, including two representations of herself pregnant (both done before she was actually expecting).
(Image: Paula Modersohn-Becker, Self-Portrait, Age 30, 6th Wedding Day, 1906, oil, Paula Modersohn-Becker Museum, Bremen.)