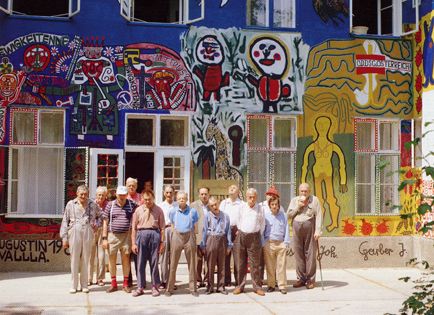 "Gugging" refers to the Haus der Künstler (House of Artists), established in 1981 by the psychiatrist Leo Navratil at the Lower Austrian Psychiatric Hospital, in the hamlet of Gugging, near Vienna. Many years earlier, Navratil had noticed that certain of his patients produced pictures superior to the usual results of traditional art therapy. Advised by local museum officials and artists (among them the painter Arnulf Rainer), Navratil personally selected artists for inclusion in his colony, which first publicly exhibited in the 1970s.
The Haus der Künstler exists to this day, but its most illustrious members belonged to Navratil's original group. They included Johann Fischer, Johann Garber, Johann Hauser, Franz Kamlander, Franz Kernbeis, Johann Korec, Heinrich Reisenbauer, Arnold Schmidt, Philipp Schöpke, Oswald Tschirtner, and August Walla.
Over the course of time, the Haus der Künstler was supplemented by other facilities, including a studio, lecture hall, sales gallery, gift shop and museum. The Lower Austrian Psychiatric Hospital was closed in 2007 and replaced by an international research center. Today, under the artistic direction of the psychiatrist and sculptor Johann Feilacher, this complex functions under the name Museum Gugging.
—
The Gugging artists entered the Galerie St. Etienne's exhibition program in 1997, and their works appeared regularly in the gallery's group shows of self-taught artists through 2011.