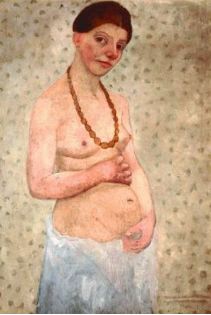 Paula Becker was born in 1876 and spent much of her childhood in Bremen. After several years of art lessons at home and abroad, she spent a few weeks of the summer of 1897 at the back-to-nature artist colony in Worpswede. Deeply impressed by the Worpswede painters' notion that a realistic subject could embody profound spiritual values, Paula returned the following summer, this time staying on for more than a year. Ultimately she rejected her colleagues' sentimental approach and their romanticized notion of country life as the antidote to urban industrialization.
Paula was drawn to the excitement of the city. On the last day of the 19th century, she set out for Paris, where she began excitedly to assimilate the unfamiliar influences of French artists such as Cézanne, Gauguin, and van Gogh. Her incorporation of French formal means was always balanced by her Germanic aesthetic ideals, however. She retained the Worpswede belief that art must function as a conveyor of pure, humanistic values.
In May 1901, Paula married Otto Modersohn, one of the founding Worpswede painters. The pair considered their union both artistic and physical in nature. Paula was not expected to forsake her art for more prosaic "wifely" duties; however, her longing to expand her horizons beyond her husband's artistic example and beyond the compass of Worpswede strained the relationship terribly. Without her husband, Paula again journeyed to Paris, in 1903, 1905, and 1906. The last of these trips was intended as a final break with Otto, but she allowed him to join her in France toward the end of the year, and in the spring of 1907 returned with him to Worpswede, pregnant. Twenty days after giving birth to their daughter, Modersohn-Becker was dead, the victim of a cardiac embolism.
—
Galerie St. Etienne mounted Paula Modersohn-Becker's first American exhibition in 1958, based on the collection of a couple who had emigrated to the States from Hamburg with a few of her works. Owing to the relatively small size of the artist's oeuvre, solo exhibitions are difficult to organize, especially in the United States. However, Kallir's granddaughter, Jane Kallir, and her co-director, Hildegard Bachert (who had a special affinity for Modersohn-Becker), mounted two further monographic exhibitions at the Galerie St. Etienne, in 1983 and 2015.