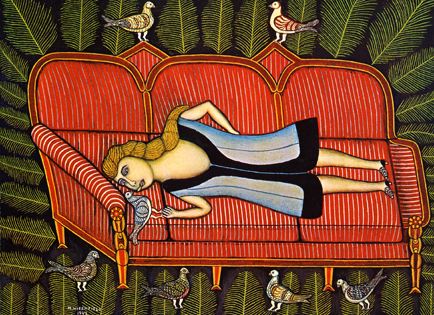 Morris Hirshfield was born in a small Polish town near what was then the German border. He immigrated to the United States when he was eighteen, settled in New York City, and found employment with a factory that manufactured women's coats. After several years as a laborer, he went into business with his brother. Their firm grew into one of the most successful manufacturers of bedroom slippers in New York.
When failing health forced Hirshfield into retirement in 1935, he turned to art. His early efforts disappointed him. As he wrote to Sidney Janis, "It seems that my mind knew well what I wanted to portray, but my hands were unable to produce what my mind demanded." Two of Hirshfield's paintings were nevertheless selected in 1939 for inclusion in a private exhibition of "Unknowns" at the Museum of Modern Art. Four years later, his first one-man show, also at the Museum of Modern Art, caused an uproar. Trained artists who had been snubbed by the museum were outraged to see it showing the work of an untrained garment worker.
The Art Digest sardonically dubbed Hirshfield "The Master of the Two Left Feet." He has nevertheless emerged as one of the most prominent folk artists of the twentieth century. The Museum of Modern Art holds several of his paintings in its permanent collection, and his work has appeared in exhibitions at the Art of this Century Gallery, the Musée de l'Art Moderne in Paris, and in almost every major survey of folk art worldwide.
—
In the 1980s, the Galerie St. Etienne developed a friendship with the artist's grandson, who provided access to the artist's seldom-seen preparatory drawings. This enabled the gallery to explore Hirshfield's methodology in a number of exhibitions.