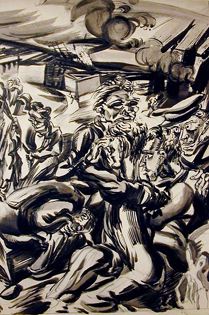 Ludwig Meidner, the son of a textile merchant, was born in Bernstadt, Silesia (today Bierutów, Poland). After a year's apprenticeship with a local mason when he was seventeen, he left home to attend the Royal Art School in Breslau. After finishing school, Meidner eked out a meager living as a fashion illustrator.
His fortunes improved slightly in 1911, when Max Beckmann recommended him to receive a stipend of 100 marks a month from an anonymous donor. Meidner painted the first of many "apocalyptic" pictures the following year. These "visions" served as vehicles to exorcise his internal anxieties about society and the time in which he lived; the subjects depicted include scenes of natural disasters, twisted city-scapes and rape. At this time, along with Richard Janthur and Jakob Steinhardt, he formed the artists' group Pathetiker (The Ones Filled with Pathos). In 1914, Meidner published Anleitung zum Malen von Grossstadtbildern (Instructions for Painting the Metropolis) in Kunst and Künstler, and also became associated with Franz Pfemfert, the publisher of Der Aktion, who began to feature Meidner's work the next year.
Meidner was drafted into the infantry in 1916 and was stationed in a prisoner-of-war camp at Merzdorf, near Kottbus, as a French translator. In the camp, he immersed himself in drawing to compensate for the miserable conditions that surrounded him. He began to write Im Nacken das Sternemeer (At My Back, a Sea of Stars) and Septemberschrei: Hymnen/Gebete/Lästerungen (September Scream: Hymns, Prayers, Blasphemies), both of which interspersed confessions, hymns to God, and depictions of saints, beggars and prophets. Meidner's first exhibition was at the Paul Cassirer Gallery in Berlin, in 1918. Over the course of the next several years, he illustrated and wrote many books, among them Eine autobiographische Plauderei (Autobiographical Chatter), which reconfirmed his commitment to Judaism.
During 1937, eighty-four of Meidner's works were removed from collections in Germany, and he was included in the "Degenerate Art" exhibition in Munich. In 1939, he fled to England with his family. Meidner returned to Germany in 1952 without his wife, who remained in England. He continued to exhibit in Germany and in 1964, was awarded the Grand Cross of Merit of the German Federal Republic.