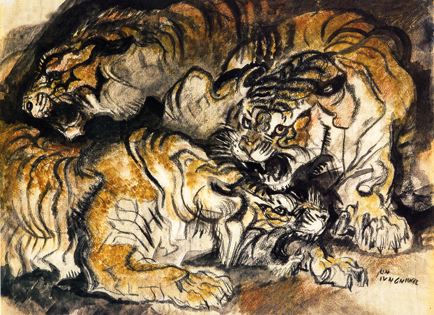 Since Ludwig Heinrich Jungnickel (1881-1965) was given to secrecy, many details of his life remain unknown. He acquired his artistic training at Munich's Kunstgewerbeschule (School of Applied Arts), the Vienna Academy under Christian Griepenkerl, and, briefly, at the Vienna Kunstgewerbeschule. Jungnickel exhibited at the 1908 "Kunstschau" (Art Show) in Vienna, and, that same year, was awarded an important commission for a wall frieze in the children's room at the Palais Stoclet in Brussels. A wholly designed environment constructed between 1905 and 1911 and involving the collaborative efforts of a number of artists under the direction of Josef Hoffmann, the Palais Stoclet (to which Gustav Klimt contributed a much better-known frieze) epitomized the Wiener Werkstätte ideal of Gesamtkunstwerk or "total artwork." Following his involvement with the Stoclet project, Jungnickel remained active in the Wiener Werkstätte as a designer of wallpaper and postcards.
In 1911, Jungnickel's 1909 series of ten color woodcuts of animals earned a prize at the "International Art Exhibition" in Rome. That same year, Jungnickel accepted a professorship at Frankfurt's Kunstgewerbeschule, though he held the position for just over twelve months. From 1917 to 1922, he published a print series on animal fables, an Italian journey, and Vienna's Spanish Riding School. Influenced by Oskar Kokoschka and Egon Schiele, Jungnickel for a time experimented with figural works, but the better part of his oeuvre depicts animal subjects. "Through animals one sees deep, because they are the highest form of nature, mankind included," he wrote in 1926. "For us, the animal is the bridge to greater nature."
In 1939, after the Nazis' branded his art "degenerate," Jungnickel emigrated to Yugoslavia. He did not return to Austria until 1952, and there he remained until his death in 1965.