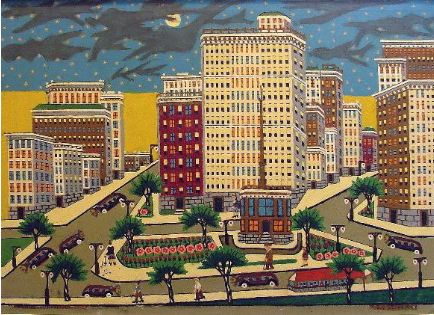 Israel Litwak was born in Odessa, Russia, and apprenticed to a cabinetmaker at eleven years of age. In 1903 he emigrated to the United States with his wife and their two children, settling in the East Flatbush neighborhood of Brooklyn.
By the age of seventy, Litwak was no longer able to build furniture and decided to try his hand at fine art, working first in crayon, and then in oil. Although he had never painted before, he had always enjoyed visiting museums and deeply admired the Old Masters. In 1939 he took some of his pictures to the Brooklyn Museum. The curator Carl Schniewind, immediately recognized Litwak's talent and mounted a one-man show. The artist became quite well known in the 1940's, and in 1946 was the subject of an illustrated article in Time Magazine.
—
Beginning in the early 1950s, Otto Kallir included works by Israel Litwak in group shows at the Galerie St. Etienne, as well as in traveling exhibitions he sent to Europe. Kallir became more personally acquainted with Litwak in 1956, expressing his admiration for the artist's paintings and encouraging him to pick up the brush again after a period of illness.