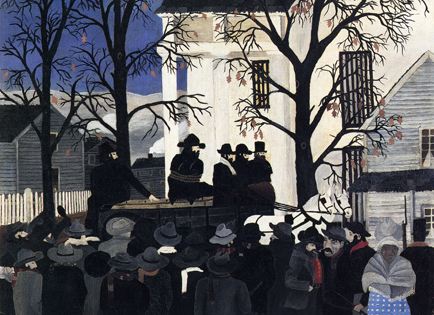 Horace Pippin was born in West Chester, Pennsylvania to a hard-working, poor, yet enduring African-American family. His earliest memories were of Goshen, New York, where he spent much of his childhood. While attending the local elementary school for "colored" children, Pippin created his first drawings, which depicted Biblical scenes. At fourteen, he attempted his first portrait.
Pippin worked at a series of unskilled jobs to support his sick mother, who died in 1911. He enlisted in the army in 1917 and was sent to France. In the trenches, he constantly wrote in his diary and made sketches. In 1918, he returned home from the front, his right arm paralyzed by a sniper's bullet. In 1920, he moved back to West Chester, marrying a widow with a young son. Some nine years later, he returned to his artwork, creating a burnt wood panel by balancing a hot poker in his right hand against his knee and moving a piece of wood across the hot tip of the iron with his left hand. This method of scoring the wood eventually helped him to regain strength in the paralyzed arm, and he was able to begin painting again.
In 1937, Pippin's first one-man show was held at the West Chester Community Center, an institution that provided cultural and social opportunities for local African Americans. Only one year later, four of his paintings were included in the ground breaking folk art exhibition at the Museum of Modern Art, "Masters of Popular Painting." The following year, Robert Carlen of Philadelphia became his dealer and introduced him to the renowned collector Dr. Albert C. Barnes, who purchased several works. In the 1940s, Pippin's work became more widely known, as many museums, including the San Francisco Museum of Art, the Pennsylvania Academy of Art, The Corcoran Gallery, The Newark Museum and the National Gallery of Art, exhibited his work. Since Pippin's death in 1946, museums and galleries have continued to exhibit and purchase his works. In 1994, the Pennsylvania Academy of Art organized an exhibition that traveled to the Art Institute of Chicago, the Cincinnati Art Museum, the Baltimore Museum of Art, and the Metropolitan Museum of Art in New York.