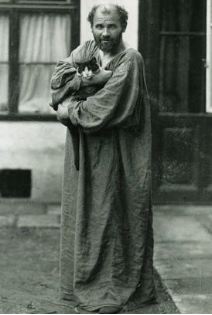 Gustav Klimt began working as a painter while still a student at Vienna's Kunstgewerbeschule (School of Applied Arts). His early collaboration with Hans Makart (Austria's reigning art star), lent the young artist a certain prestige. His commission for three murals representing Jurisprudence, Philosophy, and Medicine at the University of Vienna, on the other hand, made him infamous. When first exhibited, these allegorical nudes so shocked the public that years of protracted protests followed.
It was Klimt's vision that spurred the founding of the Vienna Secession, a multi-disciplinary group of artists and architects who formally cut ties with the Vienna Academy's conservatism and historicism in 1897. From the outset, though, Klimt associated less with other painters at the Secession than with the faction that came to be known as the "Stylists": those, like Josef Hoffmann and Koloman Moser, whose primary interest was design and the applied arts. The fact that the Secession included architects and artisans, as well as fine artists, constituted a highly unusual mingling of "high" and "low" art forms. Not surprisingly, friction soon developed between the Stylists and the "Naturalists," as Klimt's opponents came to be called. These ideological differences came to a head in 1905, when Klimt and his allies severed their ties to the group.
After the Secession split, Klimt's sole significant organizational affiliation was with the Wiener Werkstätte (which he helped to found in 1903). Although he still believed that the creation of grand allegorical canvases was the highest goal of art, the majority of his later paintings are either landscapes (mostly done while on vacation on the Attersee near Salzburg) or portraits of society women. For the most part, he retreated into the private sphere, supported by sympathetic patrons. On two occasions, however, he reverted to his former leadership role, serving as a key collaborator in the organization of the 1908 and 1909 "Kunstschauen" (Art Shows). Klimt was a tireless champion and advocate of younger artists—most notably Oskar Kokoschka and Egon Schiele—through the Kunstschauen as well as personal contacts. Klimt's premature death in 1918, from pneumonia following a stroke, was mourned by the entire Austrian art world.
—
Otto Kallir's Neue Galerie mounted its first monographic exhibition on Klimt in 1926, and included the artist in various group shows until Kallir's emigration from Austria following the 1938 Anschluß. From the 1940 exhibition Saved from Europe onward, Klimt was a Galerie St. Etienne mainstay, and Kallir worked tirelessly to establish the artist's reputation in the United States. Galerie St. Etienne hosted the first American one-man Klimt show in 1959.