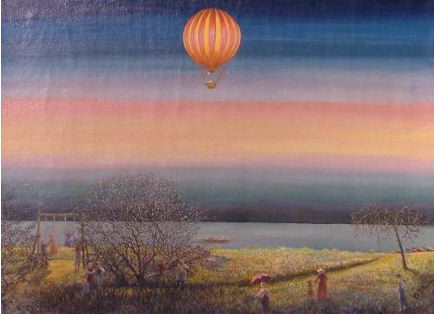 An anemic pianist from Evanston, Illinois, Gertrude McBrady arrived in Paris in 1938, when her fragile health interrupted a voyage to Spain. While convalescing in Paris, McBrady changed her name to O'Brady, finding it less difficult for the French to pronounce. An art critic with whom O'Brady went on a date presented her with a set of paints as a joke, and although the flummoxed O'Brady had never studied art and was uncertain of what to paint, she did come to embrace painting, rapidly shifting from never having produced a single picture to sometimes working for twelve or more hours per day. Within two years, the newly-minted artist had created nearly sixty artworks.
Held by the Nazis at the Vittel concentration camp during World War II, O'Brady taught herself drawing, rendering portraits of her fellow inmates in Red Cross-supplied pencil. O'Brady's post-Vittel works feature idealized Paris street scenes with sweetly surrealist details. O'Brady was enthusiastically received at the 1946 Paris Salon: renowned critic Anatole Jakovsky (also O'Brady's mentor and champion) declared her "the only great painter of the New World."
By the time of O'Brady's 1949 Manhattan exhibition, the artist's paintings had lost their surrealist trappings, and instead offered tightly-painted, highly detailed views of Paris. Inside a decade, O'Brady had undergone a series of transitions, with critics drawing stylistic parallels between her earliest works and Rousseau's oeuvre, and comparing her pencil drawings to works by the fifteenth-century artist Jean Fouquet. Sometime in the 1950s, however, O'Brady gave up painting altogether, and, according to Anatole Jakovsky, eventually moved to Italy. She may have suffered a breakdown, though little is known about the remainder of her life.