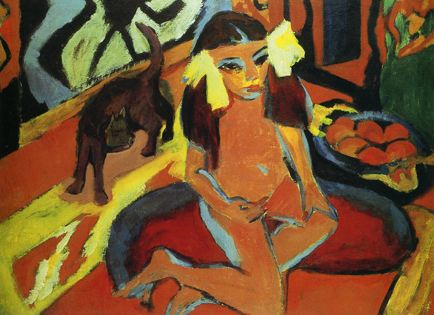 Ernst Ludwig Kirchner was among the most important and prolific of the German Expressionist artists. A founding member and leader of Die Brücke (The Bridge), he sought nothing less than to rejuvenate German art and free it from the academic style of its time. As a draftsman, printmaker, painter, and sculptor, Kirchner was instrumental in creating the style that helped defined "Expressionism" in Germany.
Ernst Ludwig Kirchner was born in 1880 in Aschaffenburg, Germany to a comfortable middle-class family. In 1890, his family moved to Chemnitz, near Switzerland and following his father's wishes, Kirchner decided to pursue a career in architecture. In 1901, he enrolled in the Königliche Technische Hochschule in Dresden. Upon passing his exams in 1903, he transferred to Munich to continue his studies. While studying architecture in Munich, Kirchner took classes in life drawing, composition and graphic arts at the Lehr- und Versuchatelier für Angewandte und Freie Kunst (Teaching and Experimental Studio for Applied and Fine Art). The studio school was run by the Jungendstil artists Hermann Obrist, Wilhelm von Debschitz and Hugo Steiner-Prag. Kirchner created his first woodcuts at the Experimental Studio, pulling them on the school's presses. In Munich, he was exposed to a variety of influences: the exoticism and asymmetry of Art Nouveau, the art of Wassily Kandinsky's Phalanx group, Post-Impressionism, drawings by Rembrandt and prints by Dürer.
In 1904, Kirchner returned to Dresden to continue his study of architecture and began to paint with Erich Heckel. In June of the following year, Kirchner, Heckel, Fritz Bleyl and Karl Schmidt-Rottluff, all fellow architecture students at the Technische Hochschule, formed Die Brücke, an artists' association that lasted until 1913. The name Brücke was chosen as a call to other young artists to fight for greater artistic freedom and to create, through their work, a freer, more vital age. Inspired by Nietzsche, particularly his portrayal of the artist as the leader of a new morality in Thus Spoke Zaruthustra, the artists aimed to express their vision of renewal through symbolic, anti-naturalistic images. Determined to liberate themselves from the repressive values of established Wilhelmine culture, the Brücke artists hoped to create a new German art in opposition to the established styles and materialism of their age. Kirchner wrote the Brücke manifesto and organized many of the group's activities.
Kirchner and his fellow Brücke artists set up their studio in a working-class area of Dresden, above a former butcher's shop. They met in the studio to study the nude in group life-drawing sessions, went on trips to the lakes near Schloss Moritzburg north of Dresden to paint nudes in a natural setting, and created works that captured bohemian life.
In an effort to renew German art, Kirchner and the Brücke artists turned to printmaking, particularly woodcuts, which they considered a truly Germanic art form. Kirchner felt his prints expressed his intense engagement with contemporary life and offered insight into his creative process. Beginning in 1906, the Brücke artist issued yearly print portfolios to disseminate their work to a wider public, publicize their vision and help finance their art. The Brücke's fifth annual graphics portfolio (1910) was devoted to Kirchner's work.
In 1911, Kirchner and the other members of the Brücke moved to Berlin, where they hoped to find a more supportive audience for their work. In Berlin, Kirchner painted a series of famous street scenes in which he captured the pulsating life of the metropolis in acrid, clashing colors. Kirchner's Berlin street scenes, painted between 1913 and 1915, evoke the tensions and dynamism of modern city life. Angular forms, extreme distortions, nervous hatching and hectic brushstrokes defined Kirchner's new style as he shifted from symbolic to psychological imagery.
In 1912, Die Brücke showed at the Sonderbund Exhibition in Cologne, in exhibitions in Moscow and Prague, at the second Blaue Reiter exhibition in Munich, and in Berlin at the Galerie Gurlitt. Kirchner was regarded as the leader of the group, but in 1913 when he composed a history of Die Brücke, the other members took offense at his egocentric account, and the group disbanded.
In 1915, Kirchner volunteered to serve as a driver in the artillery in order to avoid being drafted for less desirable duties. As an 'unwilling volunteer' he was sent to Halle to train with the mounted artillery. His riding instructor there was Hans Fehr, a friend of Emil Nolde. After a few months, Kirchner suffered a serious physical and mental breakdown and received a provisional discharge on Fehr's recommendation. In 1916, Kirchner was sent to a sanatorium at Königstein in Taunus. The artist's weakened condition, exacerbated by alcoholism and drug use, failed to improve, and in 1917 he was sent to Davos, Switzerland, for further treatment. In October of 1917, he began to suffer from paralysis of the hands and feet, for which he sought a cure in Kreutzlingen, Switzerland. Kirchner recovered slowly while continuing to work. In 1918, he moved permanently to an Aline farmhouse in Davos.
Kirchner resumed painting and gradually moved toward a more abstract style influenced by Cubism. His spiky, nervous forms and hatched lines were replaced by far more static compositions depicting the Swiss landscape and peasant life. Kirchner described his late painting technique as a "tapestry style," whereby forms were "woven" from broad areas of color. The origin of this style related to Kirchner's involvement with actual tapestries. In 1922, he began collaborating with the weaver Lise Gujer, and 24 woven tapestries were produced to his designs.
From 1936 onward, Kirchner was increasingly disturbed by news of the Nazis' attack on modern art, the occupation of Austria, and the ban on the exhibition of his work in Germany. The Nazis branded his work as "degenerate" in 1937 and confiscated all of his paintings on display in public museums. On June 15, 1938, Kirchner took his own life.