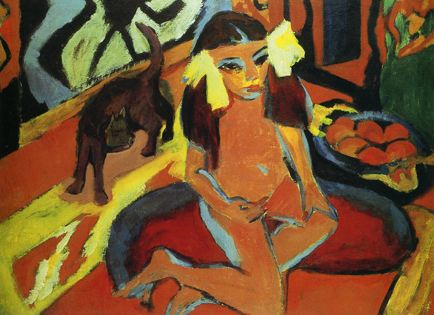 Ernst Ludwig Kirchner, a multifaceted artist central to the development of German Expressionism, was born to a comfortable, middle-class family in Aschaffenburg in 1880. In keeping with his father's wishes, he decided at age ten to pursue a career in architecture. Through his studies at Dresden's Königliche Technische Hochschule in Dresden, he met and began to paint with Erich Heckel, with whom he formed the artists' association Die Brücke (along with fellow architectural students Fritz Bleyl and Karl Schmidt-Rottluff) in June 1905.
Between the group's founding and its 1913 dissolution—the result of Kirchner's publication of an egocentric history of the group—Die Brücke's artists strove to liberate themselves from the repressive values of Wilhelmine culture, chronicling bohemian life and celebrating the human form. The artists' interest in printmaking, particularly woodcuts—which they considered a fundamentally Germanic medium—stemmed from their desire to renew German art. The collective's annual graphics portfolio of 1910 was devoted to Kirchner.
From 1913 to 1915, Kirchner painted a famous series of street scenes capturing the Berlin metropolis in bold, clashing colors. With its angular forms, extreme distortions, and hectic brushstrokes, this body of work heralded the artist's shift from symbolic to psychological imagery.
The artist volunteered to serve as a driver in the artillery in 1915. After only a few months, he was sent to a sanatorium following a serious physical and mental breakdown. At the end of his difficult recovery, Kirchner settled in a farmhouse in Davos, Switzerland and resumed painting. In Switzerland, his jagged forms gradually gave way to more static depictions of local landscapes and peasant life. His "tapestry style," characterized by broad, "interwoven" areas of color, stems from his collaboration with the weaver Lise Gujer in the 1920s.
Kirchner was increasingly disturbed by the Nazis' attacks on modern art from 1936 onward. His own work was branded as "degenerate" and removed from public view in 1937. On June 15, 1938, soon after Hitler's annexation of neighboring Austria, the artist took his own life.