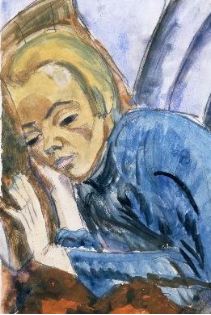 Born in Döbeln on July 31, 1883, Erich Heckel demonstrated a precocious talent for the arts. In 1904, he enrolled at the Polytechnical University in Dresden, where he met fellow architectural student Ernst Ludwig Kirchner. The pair formed the artists' association Die Brücke with their friends Fritz Bleyl and Karl Schmidt-Rottluff in 1905. This fledgling group of German Expressionists (which would later expand to include Otto Mueller, Emil Nolde and Hermann Max Pechstein) sought to break from the traditional, neo-romantic style championed by the German artistic establishment. Heckel and his Brücke colleagues fostered an artistic community founded upon a shared belief in spirituality, creative freedom and harmony with nature. To this end, members often traveled together to remote locations that appeared untouched by civilization, such as the North Sea Coast and the Moritzburg Lakes.
Eminently practical, Heckel dedicated himself to Die Brücke's administrative aspects, serving as treasurer and secretary, often designing the posters and invitations for the collective's exhibitions. He also became the unofficial mediator of disputes between members. Like the overwhelming majority of the Brücke artists, Heckel was self-taught and learned from his peers. Also like his fellows, he gravitated toward printmaking, particularly woodcut.
By 1911, all the Brücke artists had relocated to Berlin. Heckel's colors now became more subdued, his work more melancholy and introspective. The features of his portraits took on a mask-like appearance, reflecting his fascination with the collections of Berlin's ethnographic museum. In 1912, he exhibited in the Sonderbund show in Cologne and decorated a nearby chapel with Kirchner. Die Brücke disbanded in 1913 due to infighting among the members. Heckel was given his first one-man show shortly after the group's dissolution.
When he enlisted after the outbreak of World World I, Heckel's assigned duty as a medic in Flanders allowed him to continue producing art. He captured his military experiences in drawings, sketches and, incredibly, a number of graphic works, including a group of gripping self-portrait woodcuts. After the war, he joined the political artists' advisory board Arbeitsrat für Kunst and the Novembergruppe.
The Nazis designated Heckel as "degenerate" in 1937, removing over 700 of his works from German museums. An air raid near the end of World War II destroyed Heckel's Berlin studio, and with it, all his print blocks and plates. Although the artist would again take up graphics, and received numerous honors throughout the remainder of his life, his later works were never considered as desirable as his early woodcuts.
—
The Galerie St. Etienne mounted Heckel's first American one-person show in 1955, and thereafter regularly exhibited his work.