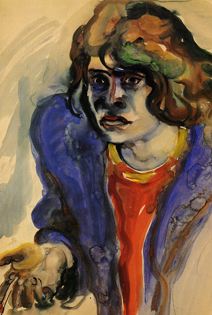 Elfriede Wächtler was the daughter of a well-to-do salesman who opposed her wishes to become an artist. After many furious arguments, Elfriede did enroll in the Dresden School of Applied Arts, in 1915. While her initial focus was fashion design, she soon turned her attention to applied graphics.
Wächtler struggled to make her way as a professional artist, working under the pseudonym "Nikolaus" in the belief that a male name would earn her wider recognition. She made connections to such artists as Conrad Felixmüller, Otto Dix, and Otto Griebel. Through the latter, Wächtler met Kurt Lohse, a singer, actor and sometime art student with whom she would enter into a stormy love affair and enormously troubled marriage.
The couple proved unable to adequately support themselves and increasingly lived apart. Between 1927 and 1930, while still married to Elfriede, Lohse fathered three children with another woman. He gave his students her finished canvases to paint over. Marital and financial woes caused Lohse-Wächtler to suffer a severe nervous breakdown, resulting in two months' hospitalization in 1929.
Lohse-Wächtler enjoyed her most productive and successful period after her convalescence. Then living in Hamburg, she mounted her first major exhibition at the Kunstsalon Maria Kunde in May 1929. Although she continued to exhibit, Germany's economic situation worsened following the American stock market crash. It is believed that by the 1930s, the artist was sleeping in railroad stations and on the street. Hamburg's red-light district served her as both her artistic subject and her home.
Destitute and defeated, Lohse-Wächtler returned to her parents' home in Dresden in 1931. In June 1932, her father had her committed to the mental hospital in Arnsdorf. When Germany fell under Hitler's control in 1933, Lohse-Wächtler, like all mental patients, was considered a non-person. She underwent compulsory sterilization in 1935 and was exterminated in a gas chamber in 1940.
—
The rediscovery of Elfriede Lohse-Wächtler at the end of the 20th century prompted numerous German exhibitions and publications, and the Galerie St. Etienne mounted the first major American presentation of her work in the fall of 1998. Today, most of Lohse-Wächtler's artworks are housed in European collections and museums and are rarely offered for sale.