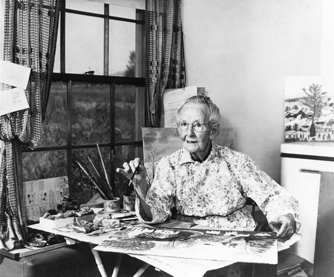 The Galerie St. Etienne mounted Grandma Moses's first solo exhibition in 1940 and represented her for the remainder of her life. Since the artist's death in 1961, we have represented her estate.
In 1951, the gallery established a separate legal entity, Grandma Moses Properties Co., to register and administer the copyrights and trademarks in Moses's work. As sister-organizations, the Galerie St. Etienne and Grandma Moses Properties share premises and staff. We provide a variety of services specific to the artist:
● Process reproduction requests ranging from one-time editorial use to large-scale commercial licenses
● Maintain a comprehensive image database and confidential owner registry
● Assist museums and other nonprofits in curating Grandma Moses exhibitions and locating loans

In 1973, the Galerie St. Etienne's founder, Otto Kallir, published the Grandma Moses catalogue raisonné. We provide opinions regarding the authenticity of works attributed to the artist but not included in that book.
The contact information for Grandma Moses Properties Co. is the same as that for the Galerie St. Etienne.