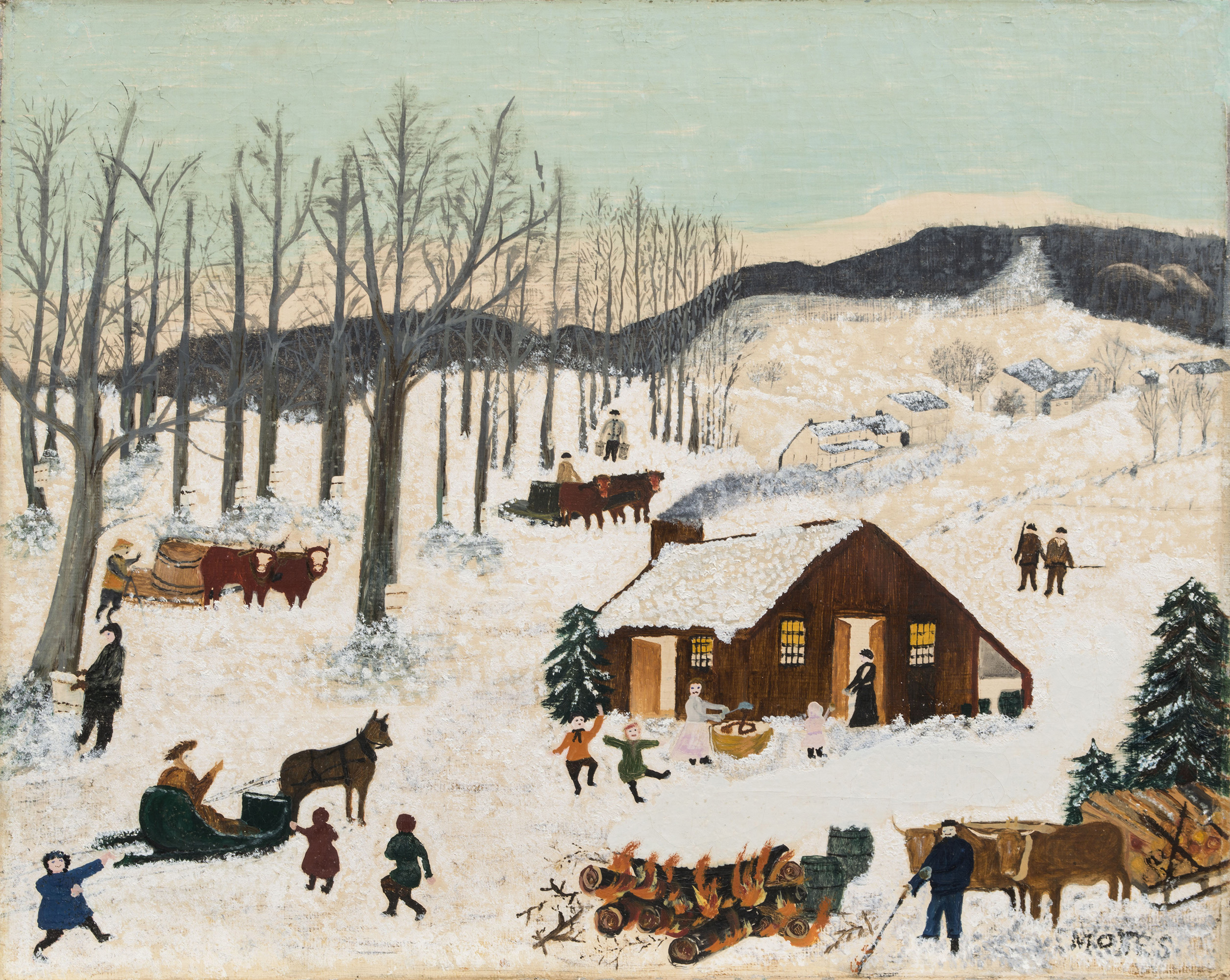 Mostly Moses: Grandma Moses, John Kane and Morris Hirshfield
The Galerie St. Etienne, the oldest gallery in America specializing in the work of self-taught artists, marks its debut at the Winter Antiques Show with a curated exhibition focusing on Grandma Moses, John Kane and Morris Hirshfield. These three were among the first American self-taught painters to be discovered by the mainstream art world in the period between the two world wars. Their achievements legitimized the efforts of untrained painters and became paradigmatic of the genre.
St. Etienne's installation features over a dozen major works by Grandma Moses, including two of her signature subjects, Sugaring Off and The Old Oaken Bucket, as well as a rare early embroidery, Winter Scene with House. Another highlight is John Kane's Pittsburgh Environs, one of his few Pittsburgh paintings not in a museum. Morris Hirshfield is represented by a selection of preliminary drawings, templates that reflect the artist's experiences in the garment industry.
Booth 65
Park Avenue Armory
Park Avenue & 67th Street
New York City
January 22-31, 2016

Galerie St. Etienne press coverage at the fair
"Several booths offer OMG moments….Galerie St. Etienne is almost all Grandma Moses…with an impressive Kane landscape in their midst."
— Roberta Smith, New York Times 
"American Art in the Spotlight at Winter Antiques Show"
ArtfixDaily
"Chasing the Weather Away at the Winter Antiques Show"
Antiques And The Arts Weekly
"Investing in All-American artwork"
Fox Business (video)
"Americana Week in New York City January 2016"
Maine Antique Digest
"The 62nd Winter Antiques Show: Virtuoso Performances Contributed To The Symphonic Whole, Even As Snow Shut Down The City"
Antiques And The Arts Weekly
(Image: Grandma Moses, Sugaring Off, 1940-42.)