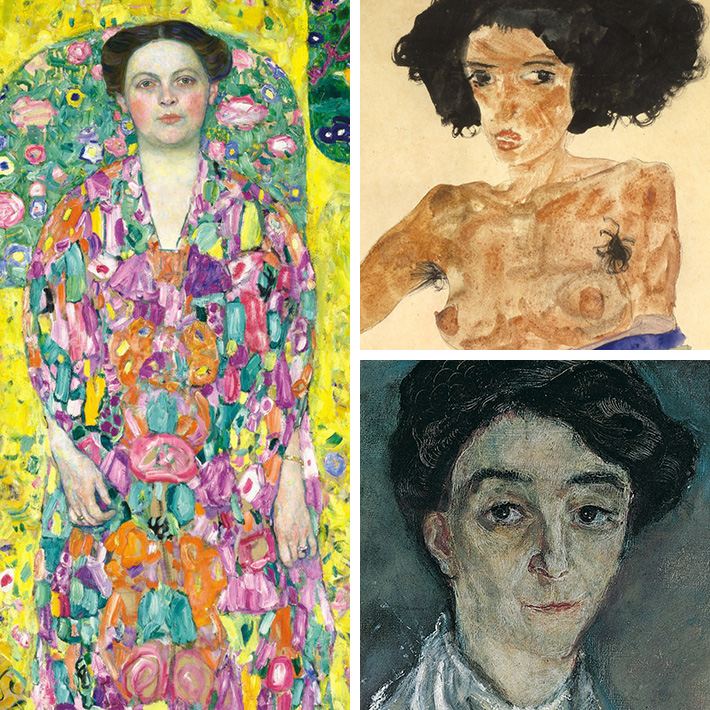 The Women of Klimt, Schiele and Kokoschka, curated by Galerie St. Etienne Co-Director Jane Kallir and Belvedere Vice-Director Alfred Weidinger, is drawing record crowds at the Belvedere Museum in Vienna. On view through February 28, the exhibition is the first ever to explore how the three artists, known for their depictions of women, dealt with changing gender norms.
Around the turn of the twentieth century, the traditional relationship between the sexes was challenged by a series of sweeping social, economic and philosophical changes. The incipient move toward gender parity provoked vehement counter-arguments on the part of popular theorists such as Otto Weininger. On the other hand, to the extent that both men and women wished to escape from the confining moral taboos of the nineteenth century, sexual liberation may be viewed as a shared goal. The more forthright acknowledgment of male and female sexual desire sent thrills and chills through early twentieth-century Austrian art, infusing the work of the nation's leading artists with a mix of terror and exhilaration.
Gustav Klimt, Egon Schiele and Oskar Kokoschka each approached what was then commonly known as the "woman question" in slightly different, albeit overlapping, ways. The Women of Klimt, Schiele and Kokoschka explores these differences and similarities in depth, in the process providing new insights into early twentieth-century gender relations and the origins of modern sexual identity. Organized both chronologically and thematically, the exhibition focuses on four principal subject groupings: portraiture; mothers and children; couples; the nude. The exhibition includes major loans from museums and private collections in Europe, the United States and Asia. Among the rarely seen masterworks are Klimt's Three Ages of Woman, from Rome; Schiele's Edith Schiele in Striped Dress from the Hague; and Klimt's Portrait of Eugenia Primvaesi from Toyota, Japan.
Video tours of the exhibition:
The Women of Klimt, Schiele and Kokoschka, Belvedere Museum on YouTube
Reviews
"Dazzling"
—Artnet News
"A 'must-see' exhibition for anyone interested in the theme 'Vienna 1900.' …Never before have so many masterworks by Klimt, Schiele and Kokoschka on the subject 'women' been assembled in one place."
—Kurier
"The Substance of Brush-Wielding Masculinity: On the one hand, the emancipation movement in Vienna around 1900; on the other, the image of women in contemporary art. 'The Women of Klimt, Schiele and Kokoschka' at the Belvedere explores this contradictory dialogue."
—Der Standard
"Women in the work of Klimt, Schiele and Kokoschka"
—Burlington Magazine, January 2016
"The Good, The Bad and The Ugly der Aktmalerei"
Mottingers-Meinung
"Unteres Belvedere: Fisch, Fleisch? Frauenbild um 1900"
Die Presse
"Le donne di Klimt, Schiele e Kokoschka in mostra a Vienna" (video)
Rai News
(Images from left: Gustav Klimt, Eugenia (Mäda) Primavesi, 1913-14, Toyota Municipal Museum of Art; Egon Schiele, Moa (detail), 1911, private collection; Oskar Kokoschka, Elisabeth Reitler (detail,) 1910, Von der Heydt-Museum Wuppertal.)