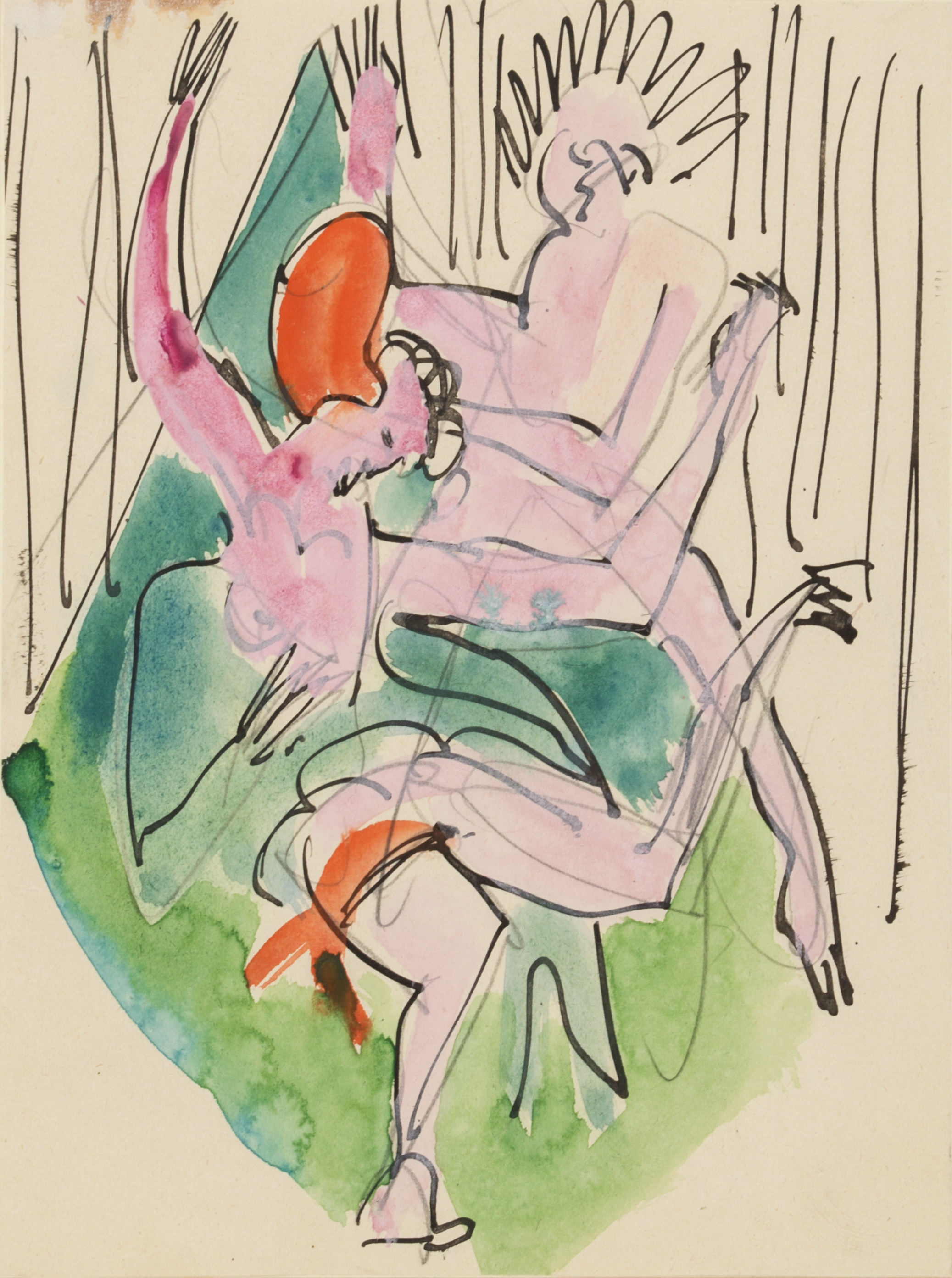 The May 2016 issue of the prominent German magazine Weltkunst devotes 8 pages to our current exhibition, "Ernst Ludwig Kirchner: Featuring Watercolors and Drawings from the Robert Lehman Collection." An English translation of the editorial by Lisa Zeitz and article by Kirchner scholar Gerd Presler follows. To view the original German, with 8 full-page color reproductions, click here.
Editorial
Dear Readers —
A few weeks ago, I visited a very special place in New York. The Galerie St. Etienne, on the eighth floor at 24 West 57thStreet, near Fifth Avenue, is the oldest location in the U.S for lovers of Expressionism. Otto Kallir-Nirenstein established his gallery in 1923 in Vienna under the name Neue Galerie. He emigrated in 1938 and came to New York in 1939. Just a year later, he hired a young secretary who, born in Mannheim in 1921, had also fled the Nazis. Today, the fabulous Hildegard Bachert is the gallery's co-director, together with Jane Kallir, the founder's granddaughter.
Even at her advanced age, Hildegard Bachert may be found in the gallery every day. Her sharp intelligence, as well as her expertise regarding Käthe Kollwitz and Grandma Moses, are in demand the world over. She recently showed me a real treasure: thirty drawings by Ernst Ludwig Kirchner from the collection of Robert Lehman (1891-1969), among them the Two Dancers (1927) pictured here. I'm very happy that we have the exclusive privilege to show you eight of those drawings, which have never before been reproduced. Gerd Presler describes the spontaneous artistic power that emanates from these works.
Hildegard Bachert still remembers Robert Lehman, a prominent New York banker whose father was a co-founder of the Lehman Brothers Bank and whose brother was a governor of New York State. She recalls him as a modest, rather shy individual who bought modern art and musical manuscripts from Otto Kallir. Lehman donated 3000 works in the collection, begun by his parents, to the Metropolitan Museum, which constructed an entire wing to display them. His son recently discovered the Kirchner drawings and entrusted them to the gallery for sale.
Lisa Zeitz
Editor-in-Chief
instagram.com/WeltkunstMagazin/
twitter.com/WeltkunstNews
facebook.com/weltkunst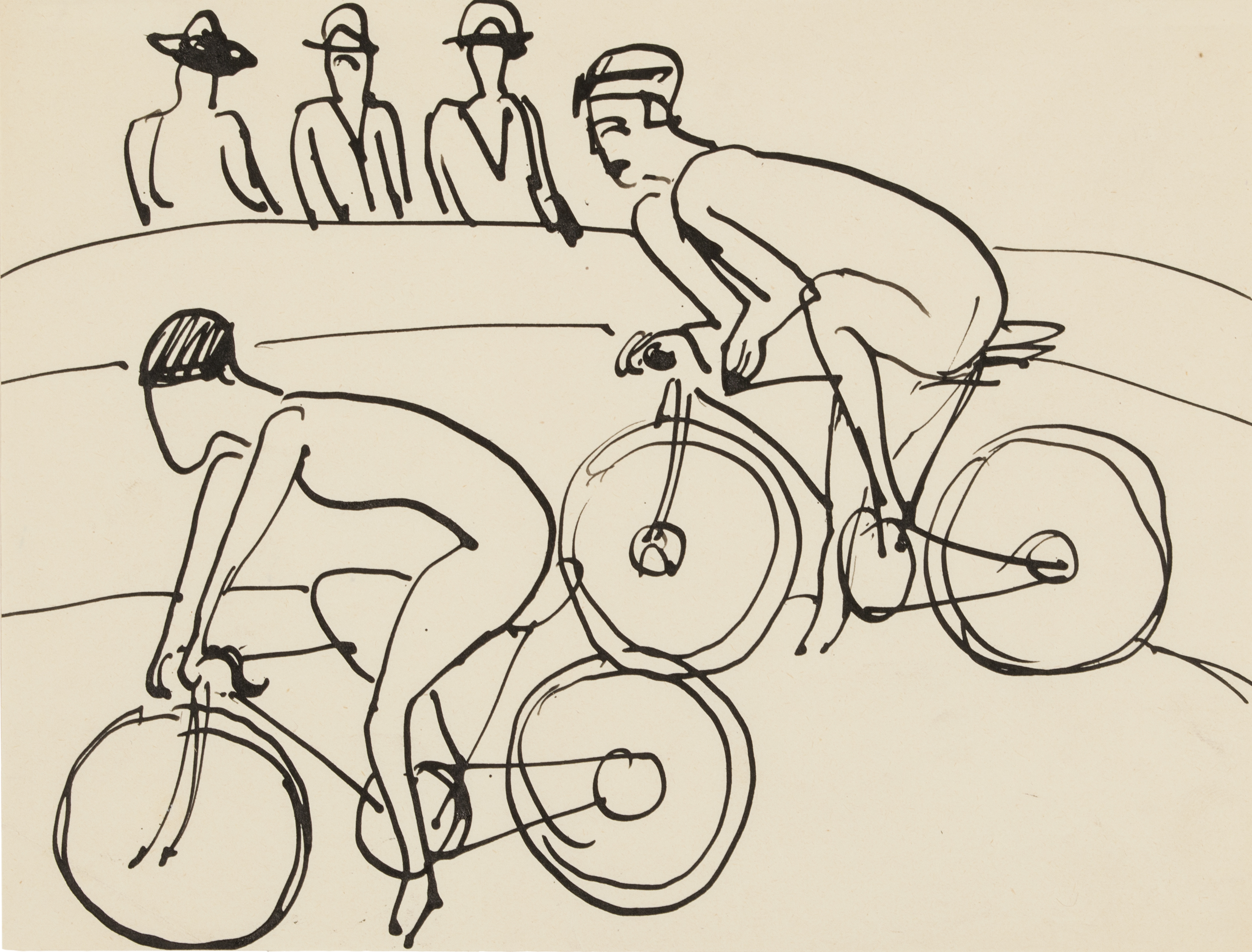 Ecstatic Lines
Kirchner was wholly himself in his sketchbooks; here he found the greatest artistic freedom. We are the very first to reproduce these sheets from the artist's estate, which slumbered in the New York collection of Robert Lehman for half a century.
Gerd Presler
This sort of thing doesn't happen every day: Thirty hitherto unknown sketches and drawings by Ernst Ludwig Kirchner are now on view at the renowned Galerie St. Etienne in New York– works with a truly breathtaking provenance. They can be traced to Erna Schilling, the artist's companion, who was known to everyone as "Mrs. Kirchner." After his death on June 15, 1938, Kirchner's entire estate remained in her house on a hill above Frauenkirchen, near Davos.
Small, waxcloth-bound notebooks gave Kirchner access to his greatest flights of artistic freedom. Nowhere else, he said, was he so imbued with the "ecstasy of first sight." Lise Gujer, who wove carpets based on Kirchner's designs, loved the artist's spontaneous style and purchased many of his creations from Erna Schilling prior to her death in 1945. Among the small number of people with whom Gujer shared her treasures was Theo Hill, an art dealer in Cologne, who most likely acquired the thirty drawings. Created between 1906 and 1936, they encapsulate "the complete Kirchner."
Across the Atlantic, Robert Lehman had in 1959 commissioned the dealer Charles Lock to buy art in Europe. A favorable exchange rate ($1 = 4.20 Mark) enabled American collectors to buy whatever seemed worth having. At auctions they would raise their hands and never put them down. Among them was the influential Robert Lehman. Descended from a Jewish family of haberdashers that emigrated from Rimpar near Würzburg, he was both a leading banker and a great art collector. After his death in 1969, the Metropolitan Museum built an entire addition, the Robert Lehman Wing, to house the wonderful art that he and his parents had assembled. One of the most extraordinary collections in the U.S., it comprises art of the Italian Renaissance (including a painting by Sandro Botticelli), as well as Rembrandt, El Greco, Goya and, closer to our time, Ingres, van Gogh, Matisse, Cézanne and Gauguin. In addition, there is Renaissance majolica, Venetian glass and the world's largest collection of antique frames. Also, a library of 23,000 volumes and an archive recording all acquisitions. Among these documents is a letter, dated August 12, 1959, in which the agent Charles Lock reports his successful "treasure hunts" to Robert Lehman: "Today I was in Cologne. No paintings as yet, however a magnificent collection of 30 drawings in different media covering his period from about 1905 to 1930 by E. L. Kirchner. Quite unique, never any dealer's hand before, never shown before and coming from the Estate of Mrs. Erna Kirchner, wife of the artist."
The wise collector lost no time. And so the unsigned sketches, each measuring approximately 21 x 16 cm (8½ x 6¼ inches), were securely locked away in the family's collection–until today. It is remarkable that both Lock and Lehman understood the quality of these works at such an early date. For the importance of the sketchbooks in Kirchner's oeuvre has only recently been recognized. Unknown, too, was the artist's own opinion, which he expressed in his Davos diary. He considered the "small sketches in the little notebooks with oilcloth covers" the "most valuable," because they "capture the subtlest first perception." It must have been the collector's sensitivity, formed by familiarity with great art, which led him to acquire this trove and to keep it safe over a period of almost sixty years. As I've said: truly amazing.
What exactly is in this collection of thirty works which Hildegard Bachert and Jane Kallir of Galerie St. Etienne are now able to present? Everything that adds up to Kirchner! Glorious nudes, dance scenes, portraits, architecture, landscapes. There are two portraits of Erna; one of Dodo, Kirchner's gentle lover from the Dresden period; another of Gerda Schilling. The collection begins with a small drawing–only 9.5 x 13.3 cm (3¾ x 5¼ inches)–from the early Brücke period, of a man and woman at a café table. Then follow nine sketches from Kirchner's best creative years, between 1909 and 1911, including "Indian Dancer" (pencil and watercolor; p.46). Two similar subjects from that same sketchbook are in Essen at the Folkwang Museum, and in Saarbrücken at the Saarland Museum, respectively. The Berlin period is represented by an overwhelming depiction of Gerda as "Standing Nude Woman with Folded Arms" (p.45). In 1916 Kirchner recorded, on yellow paper, the shell-shocked officers (p.44) in Dr. Kohnstamm's Taunus sanatorium. And in Davos, the customers at the Café Schneider (still popular today). With quick, energetic strokes he "hieroglyphed" sporting events, such as a bicycle race (p.43). The final entry among the Lehmann sketches, from 1936, is a view into the Sertig Valley. Here Kirchner captured the calm and peace that he could never attain in his own life.
The sketchbook. A special place. The works that left the studio for public exhibition play a different role in Kirchner's creative process than those that were addressed to no one but the artist himself. The sketchbook has a special status, a unique position. Here the creative individual need observe no law written by others; he is free of market dictates and the pressure to compromise. Here he need not worry about the reactions of the public, of collectors, curators or gallerists. In the sketchbook the artist is alone, free, unobserved, private. Here he spends his loneliest and at the same time his most exciting hours. A paradisiacal, innocent state, devoid of concessions to worldly demands. If you wish to encounter Kirchner truly, to understand him truly and to approach closely the creative process which imbued him, you have to begin here. What a fortunate discovery!
The sketches are exhibited for the very first time at New York's Galerie St. Etienne until July 1, 2016.
(Images from top:  Two Dancers, 1927, pen and ink, watercolor and graphite; Two Bicycle Riders, 1926, pen and ink. Both formerly collection Robert Lehman.)