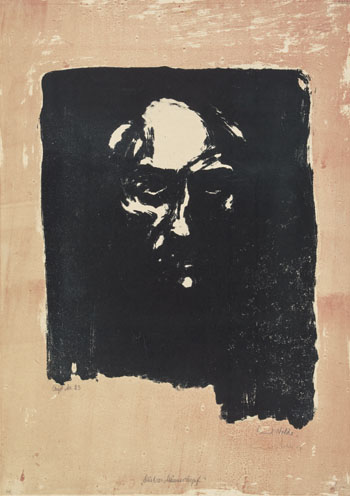 The Galerie St. Etienne, the oldest gallery in America specializing in Austrian and German Expressionism, is proud to exhibit a selection of museum-quality etchings, lithographs and woodcuts by some of the movement's major artists at the IFPDA Print Fair this year.
Highlights include a number of exceedingly rare prints by Erich Heckel (Factory, 1910) and E.L. Kirchner: Street Life in Dresden, 1908; Kneeling Female Nude in Contour, 1909; Sailboats near Fehmarn, 1914; and Frau Professor Goldstein (Sanatorium Kohnstamm), 1916. Kirchner's Kneeling Female Nude in Contour, one of only two known impressions, is further distinguished by an original color crayon drawing on the verso.
A special "cabinet of curiosities" features the American master printer Leonard Baskin, exploring his artistic ties to the Renaissance Wunderkammer.
Booth 215
Park Avenue Armory
Park Avenue & 67th Street
New York City
November 4-8, 2015
Click here to view our Digital Catalogue
(Image:Emil Nolde, Head of a Somber Man, 1907/1915, lithograph in two colors on heavy off-white wove paper.)