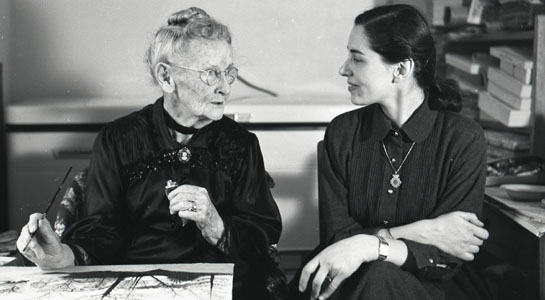 Hildegard Bachert, who joined the staff of the Galerie St. Etienne on November 4, 1940, is celebrating 75 years on the job. Bachert, a native of Mannheim, had fled Nazi Germany several years earlier. She convinced Otto Kallir, the founder of Galerie St. Etienne and like Bachert a Jewish refugee, to hire her by volunteering to give him English lessons.
Though Bachert and Kallir were both new to the US, they made the Galerie St. Etienne an internationally recognized center for such artists as Gustav Klimt, Egon Schiele, Oskar Kokoschka and Käthe Kollwitz. In the 1940s, these artists were virtually unknown and unmarketable. Schiele drawings, priced at $10 to $50, found no buyers, and as late as 1957, the Museum of Modern Art turned down Kallir's offer to give them a Schiele oil. Perseverance, the organization of museum exhibitions and the preparation of scholarly publications enabled the Galerie St. Etienne to put Austrian modernism on the map.
In tandem with its interest in Austrian modernism, the Galerie St. Etienne appreciated and promoted the formal innovations of untrained artists. In 1940, the gallery gave Grandma Moses her first one-woman show. Bachert thereafter served as the gallery's key liaison with Moses, helping shepherd her to international fame. At the time of her death in 1961, Moses was probably the most successful female artist in the world.
Having experienced at first hand Hitler's decimation of Jewish cultural property, Bachert and Kallir endeavored to help survivors recover their looted art after World War II. These efforts, though not always immediately successful, had a belated impact in 1997, when the gallery gave its files documenting the theft of Schiele's Portrait of Wally to the NY Times. The painting, then on view at the Museum of Modern Art, was seized by the NY District Attorney, leading to a major overhaul of Austria's restitution laws.
Hildegard Bachert, now 94 years old, was named co-director of the Galerie St. Etienne in 1979, together with Otto Kallir's granddaughter Jane Kallir.
Bachert was recently profiled in the New York Times and the The Art Newspaper.
(Image: Hildegard Bachert (right) with Grandma Moses, March 23, 1954. Photo by Otto Kallir.)